Programs
COMMUNICATING WITH V.A.L.U.E.S ©
A SYSTEMATIC, SEAMLESS TRAINING PROCESS FOR THE ENTIRE ORGANIZATION
V- Valuing


A- Asking


L- Listening


U- Understanding


E- Enabling


S- Serving
These training programs provide a basic communication structure for the entire organization, using a systematic and seamless process. This process will enhance a customer-focused environment while providing a common message, a standard language, and a structured modality for communication, actions, and activities. The training is customized to focus on the organization's values and mission.

Different skill sets require different learning models. If you are learning a software program or the capitals of all the countries in the world, you would probably be able to learn them best by a traditional learning method. Most corporate training processes are typically based on a learning model that only feeds information into the intellect. It is processed, and hopefully retained, to be regurgitated at the appropriate time.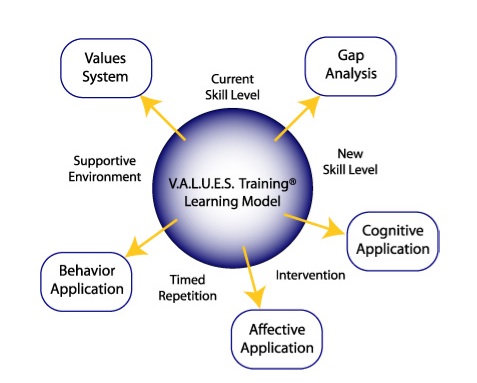 ---
When skills that affect behaviors and attitudes are learned, there has to be a different process. You cannot learn to ride a bicycle by reading a book, watching a video, or by taking an on-line computer course.

Milton Rokeach, in his book, Beliefs, Attitudes and Values, (1968 , Josey-Bass) states that human personality consists of three distinct domains or components: behavioral, affective, and cognitive. We are endowed with the power of cognition or comprehension. According to Rokeach, the cognitive domain is the intellect and base on which the structure of effects and behaviors are built.
The behavioral is always being shaped by our thoughts, our emotions, our actions, and our environment. This dimension is where our attitudes about ourselves, our abilities, our values, our ethical perspective, and our self-image reside. If we are to improve our performance, we must change the internal issues that affect or performance.

V.A.L.U.E.S. Training focuses on creating behavior change by providing activities, through timed repetition and a structured process, to develop new skills and habits. Our programs provide an initial seminar, follow-up sessions, and creative material to support the learning process.
---
V.A.L.U.E.S. Training© provides you with a seamless communication process. For instance, by providing your company with V.A.L.U.E.S. Selling© and V.A.L.U.E.S. Customer Service©, your sales and customer service people will be more productive because they have a common modality or method of communication. They have a common set of rules and can hold each other accountable for how they treat each other and the customer. The process will help create a culture of understanding and trust. Managers love it because the process is easily coached and monitored. Staff and salespeople love it because it is based on honoring and valuing people.
Additional information available with free registration